Synthetic Turf Repair Services for Jupiter Residents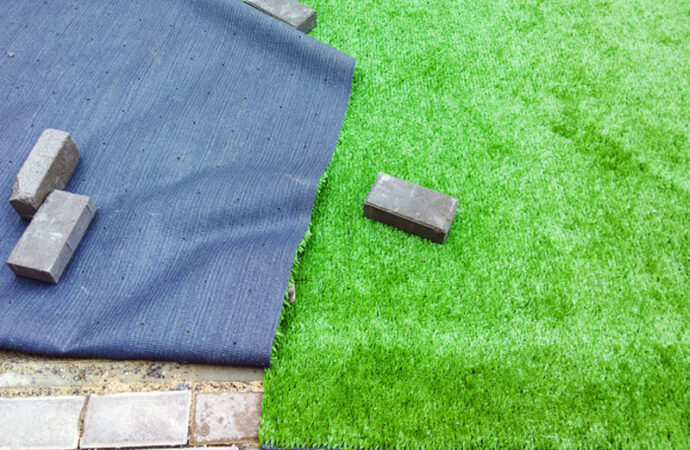 Synthetic Turf Team of Jupiter can offer more than just design and installation. We know that a key part of keeping your turf green for many years is being able and willing to make repairs whenever they are needed, even if they are not frequently required. We are here to help you with any synthetic turf repair that you might need. Rest assured, we will fix all holes or patches in your surface and do it with the materials you could have stored from your previous installation.
Your synthetic turf is susceptible to only a few types of damage: it can be burned, torn, or pulled out. Our professionals will need to determine the cause of the damage—in case you are unable to provide us with this information—and come up with a solution or two to make it look just like before.
While repairs are rarely necessary, owners and families will sometimes request them for services due to artificial turf's age.
The most common problems with synthetic turf are discolored areas, particularly if they have been used for more than seven years. It shouldn't have discolored in the first six years if the artificial turf had been used based on how it was designed to last in the area with the specific characteristics and needs. 
Every time of damage has a different requirement, and we are all in to provide the specific solutions for each.
Now, it is not impossible to present burned or torn sections even when they are part of the rarest problems with artificial turf. We will help you make sure that they disappear and that your artificial turf looks neat and tidy in no time.
Should You Do It Yourself or Rely on Our Experts?
If possible, never try to handle synthetic turf repair on your own as it can end up compromising more than the current area that is damaged or just make the whole repair worse.
While you can do some minor damage and repairs, you shouldn't do it if you are looking for long-term repair.
Because most adhesives and patches don't match the turf's quality, DIY artificial turf repairs can only last for a few weeks to months, and the next repair can come with more things to do as more pieces were damaged in the process.
Your synthetic turf was likely installed years ago by our team. If so, you will need the exact same product or material to make it look like it never happened.
Low-quality patches and solutions can sometimes lead to the worsening of the problem. These can be useful for temporary needs, but we recommend that you contact us to have it done, so you don't notice any difference in any sections.
Tape, glue, and other simple materials cannot be purchased in the low-end section of the store. If you want the repair to last long or if you are aware that the product used by the previous company wasn't of the highest quality, why go over the same issue once more?
No matter how small or large, our professionals are available to assist with any burns or torn pieces, or damaged sections.
We usually complete the repairs on the first visit to your property and assess any damaged areas. Most repairs take less than an hour unless you tell our team that the work involves large areas of your turf.
Sometimes, it may be a good idea to replace the entire section of artificial turf. However, we won't do this without your permission.
Are Repairs Really That Easy?
It is always simple since artificial turf doesn't need to be treated like the real thing. Instead, you won't have to worry about using fertilizers or having empty and damaged spots all the time.
Artificial turf is available in many pieces, so you don't have to wait for it to grow. It is easy to replace the section, piece, or entire turf as required.
This is done by replacing damaged pieces, cutting them out, and installing new ones. The difference in appearance and adhesive will not be discernible.
All synthetic turf users and owners can save time and money with this since it isn't required to have a new turf installed in the entire area.
There will always be remnants or leftovers from turf installations that were not used or that had to be cut to fit specific corners or spaces. These pieces can be stored for future repairs.
You can rest assured that we will leave some remnants if you have installed artificial turf with us. We want you to have enough pieces, so you don't have to pay for extra ones when you have some from the installation alone. 
You can save money by having us use the remnants you have. Repairs are usually not very expensive unless the damage is extensive and requires large parts to be replaced.
Feel Safe with Our Repair Service
Synthetic Turf Team of Jupiter can be reached at any time throughout the year. All residents, new and old clients who may require synthetic turf repair, are welcome to contact us.
You can send us photos and other evidence to help us determine the cost of repair and provide an immediate solution. If we do not have photos or evidence, our team will visit the site and be able to repair the damage regardless of how severe it is.
We don't normally assess visiting your home, especially if it is our client. However, a quick inspection of the damage will suffice to begin repairing it in the next few hours. Please let us know if you would like a free assessment before us taking the next step.
If you don't feel comfortable with the cost or are unable to pay immediately, we won't force your team to repair it. Keep in mind that we are flexible and will do our best to adjust our prices to fit your budget and meet your needs.
Get in touch with our team to let us do our jobs.
Below is our list of additional services: