Synthetic Turf Installation Services for Jupiter Farms Residents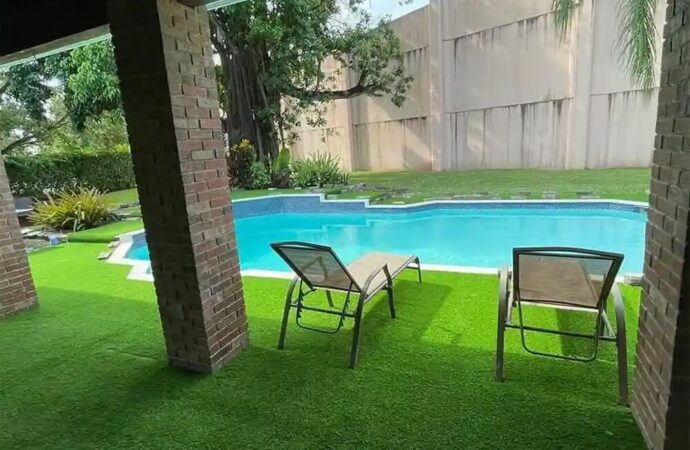 Jupiter Farms' beauty lies in all the farming areas, stunning gardens, and unique green spaces that are well-known for how much attention and time their owners invest in them. This is the ideal place to find a fresh area to enjoy nature and even grow your own vegetables or prepare a space that will make others sit for an hour or two. At Synthetic Turf Team of Jupiter knows this best as we have helped dozens of owners in the community to have their stunning turf and grass without having to spend a ton of money.
We work with large-scale companies and projects whenever they want to have a project that involves offering their employees or workers great spaces to connect with nature, but we also help homeowners and commercial owners to have their own green spaces, golf courses, athletic fields, and much more as needed.
We are always asked to put greens. Even if the area is very small, we will make sure you are satisfied with the results, and this is only a part of what we can do for all Jupiter Farms residents. Allow us to explain the whole process.
Measure the area available and where you would like us to put greens.

Based on your area and what you want, create the perfect design.

Select the synthetic turf, and we'll add greens and other elements to make it look like a golf course or part of one.
We handle all aspects of design and installation, except for any previous jobs you would like us to finish, repair, improve, or complete.
We Have More Than Putting Greens Service
Putting greens is a very popular service, but we offer many options to help clients and individuals have stunning green areas with artificial turf or grass that will not perish for at least the next 20 years. It doesn't need to be maintained every week, and it will save you lots of money.
Both residential and commercial synthetic turf installations are possible. We make every effort to ensure that the product we choose for our projects is environmentally friendly, provides harm reduction (for falls or other accidents that may occur) and is resistant to low- or high-volume foot traffic.
We can alter the product that we use in special circumstances or upon request based on the materials used to make the turf or grass and all of the fibers.
It can be overwhelming to do all of this at once. But that is why we are here. You can also rest assured that we will take into consideration your budget and find the best option for you based on your requirements, your spending limits, and your preferences.
Always Aiming for The Best
We are able to satisfy your needs, whether it is a small or large job.
Artificial turf will make your garden, patio, backyard, park, playground, athletic field, or golf course look amazing. It is non-toxic and can last up to 15 years without any maintenance in terms of being a special one.
Give us a call or send us an email, or come visit us. Our team will handle your project and go over the details with you.
Below is our list of additional services: