Synthetic Turf Team of Jupiter Services and Offerings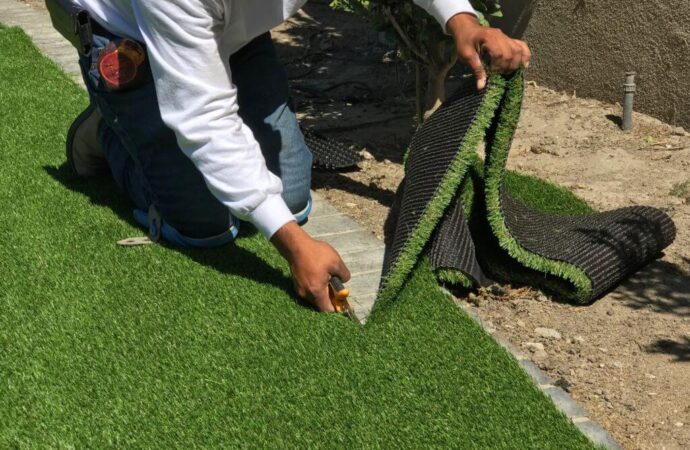 Synthetic Turf Team of Jupiter can help you make your green space beautiful, safe, and comfortable, whether it's your garden, school, patio, or playground. We will ensure the synthetic turf you choose to install is the best for your area and guarantee its durability and longevity when provided and installed by our team.
Choosing artificial grass over natural grass isn't as difficult as you think. Even though most people don't know this, tending to natural grass or turf takes time, effort, and water. It ends up using more water than it helps preserve the earth's natural resources.
Synthetic turf is the best option for homeowners and business owners looking to create a beautiful garden or patio but avoiding doing it at the expense of what we have left on the planet.
Artificial grass is often used on golf courses, playgrounds, schools, and other places that rely on its performance and appearance during certain seasons. Despite Jupiter's incredible weather in terms of sun and several storms from time to time, artificial turf will not be affected by it.
How Can We Support Your Decision for Synthetic Turf?
The most popular service is synthetic turf installation. We are always happy to assist new clients in designing their space and choosing the perfect type of turf so it will actually last over ten years with little maintenance and even close to none. It will be beautiful and safe for pets and children, and it will look great in the process of watering every two weeks and just tending to it once a month.
We have expanded our services beyond regular installation. However, before we get to them, we need to make a distinction: turf and grass don't look the same nor work for them same areas and green spaces.
While grass is sometimes called turf, there is a huge difference in how it can perform in a space and also look.
Turf is for high-impact activities, high-volume foot traffic, and where people will spend most time every day or very often. However, grass has a more attractive and stunning appearance once it is installed and is meant for landscaping mainly.
The difference will not be noticeable in simple spaces like patios or gardens. However, artificial grass isn't a good choice for athletic fields and playgrounds since it will not allow athletes to practice on a stable surface, and it won't offer impact reduction for children if they fall or are injured.
We want you to know that we are here to support all your needs and projects, from the simplest details to the more complex process of installing, repairing, or performing maintenance on artificial turf or grass.
Our list of services will give an idea of the ways that Synthetic Turf Team of Jupiter can help you beyond installation:
Let Us Know How We Can Help
Our team will create a plan of action based on your specific needs. We can help you with custom jobs and designs if none of these services fit your project.
Contact us to discuss any of our solutions with the best company in the area or to make a request to our team!
Below is our list of additional services: