Synthetic Turf Installation Services for North Palm Beach Residents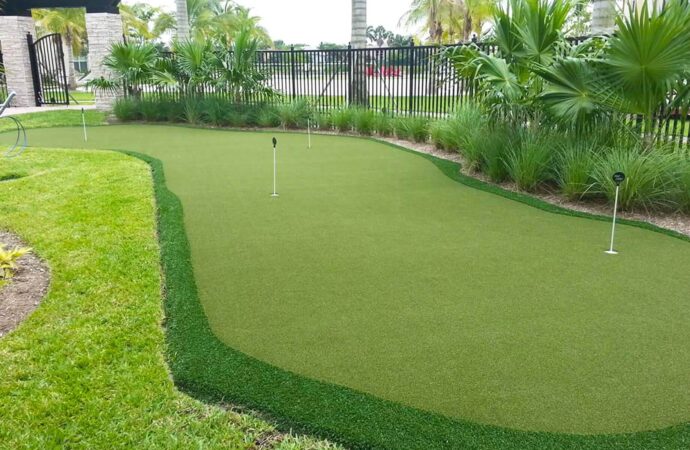 North Palm Beach offers many things to residents and visitors alike. The first attraction we probably have to mention is how it has beautiful beaches that attract most visitors all year, especially at the peak of summer. Green areas with plenty of activities and places for those looking to start a new life are also very common. The city's beauty lies in the way that natural and public areas are maintained and how residents care about maintaining their green spaces and properties. Synthetic Turf Team of Jupiter works closely with homeowners and business owners to make sure their outdoor spaces are stunning with the right selection of synthetic turf.
We have been around the city for many years, and we know how much time homeowners spend on their gardens and patios. As such, we are familiar with the importance of maintaining turf and fertilizers for them when it comes to handling the real thing.
Unlike natural turf, which takes a lot of time, money, and water, synthetic turf is an affordable, long-lasting, and durable option that anyone can use to maintain green space. Artificial turf can save money in the long-term as it pays for itself within 3 to 5 years, and you can also reduce the money spent on your water bills and forget about fertilizers or other products.
Artificial Grass Is Better Than Natural Grass
The benefits are the key to everything, and we love going over this with the natural vs. artificial grass so our clients can have a look at how this will benefit them and not only those using the space later on.
Turf or natural grass is thought to have a beautiful appearance that can help you contribute to the planet, but this is quite wrong. It is time-consuming and requires a lot of watering. This could make it more difficult to preserve natural resources and take a lot of money from your pockets.
Synthetic turf is made from durable, eco-friendly fibers lasting up to 15 years or more. You won't need to worry about maintaining it, as watering once a month or twice a month is enough. It will look great and last for many years even when there is a lot of foot traffic.
You won't need to fertilize or use chemicals that are harmful to the environment or any individuals using the space.
There are many details and aspects to consider from this product since it is crucial to choose the right type according to your needs and areas:
It is important to consider the foot traffic that will pass by where it will be placed. Low-volume patios and residential gardens are not considered for extra durable turf, while schools, playgrounds, and athletic fields are high-volume, so they require different types.

Artificial grass materials and quality are determined by your preferences, budget, and other needs.

Support, appearance, and harm reduction. Synthetic turf and grass are beautiful and provide safety and support for green space users.
Our Synthetic Turf is Perfect for Pets
We are concerned about the safety and comfort of your pet, as well as people and children, which is why we have included this service on our list.
It can be hard to control your pet's behavior when you allow them to play in the garden or with your children.
Our job involves pet turf installation. This will allow you to keep your pets comfortable, whether they are cats, dogs, or other types of animals.
Contact us to request our special service. We would love to know about your specific preferences and needs and bring new options so you can have a space that is perfect for everyone.
Below is our list of additional services: