Playground Synthetic Turf Installation Services for Jupiter Residents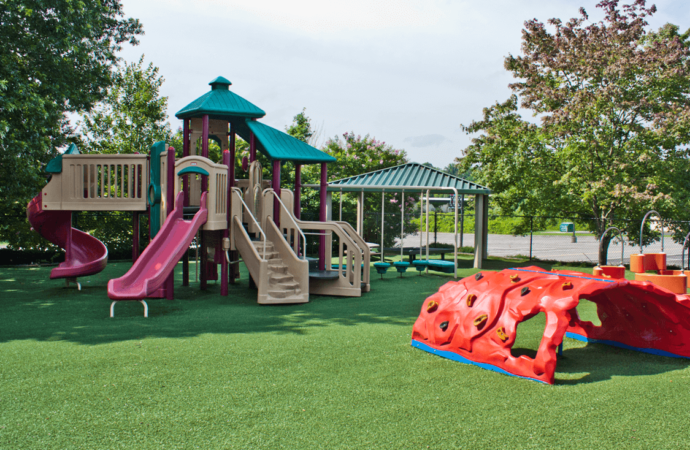 It is not easy to keep children safe when they are having fun. It is important to be there to supervise them and to keep them from falling or having accidents. It is sometimes impossible to prevent bad things from happening, no matter how hard you work. This is why we always recommend going for playground synthetic turf installations as a regular service offered by Synthetic Turf Team of Jupiter, as it reduces harm and impacts and provides a surface that you can trust and even have more users in the long run or just ensure they are able to enjoy the time.
Synthetic turf is not only popular because it imitates the real thing well but rather because it comes with more benefits and gets rid of the usual problems with natural turf:
It is long-lasting.

Durable.

Earth-friendly.

Non-toxic.

Adds extra impact reduction.

It blends well in any place or city.

As for the usual problems: frequent watering, using fertilizers, high maintenance, a lot of money to be invested.
It is not always the best option, but it does end up being the third most popular option when compared to other surfacing alternatives that offer great benefits like durability and impact reduction but aren't often able to overcome the defining test: weather.
Artificial turf is able to withstand any weather conditions. It is also much easier to maintain than natural grass and will offer the best solution for all your playground and as needed.
How Easy Is It to Install Synthetic Turf for Your Playground?
We recommend that you do not attempt DIY projects if you are aiming to save money or want this surface installed, as it can end up giving the opposite result.
It's not just about the quality and durability of the turf, but also how well it was installed and if the installation will offer more benefits to your regular product since preparations and all elements are crucial.
It is not easy to prepare the ground, place the underlayment, use the correct tape and glue, and ensure that every piece stays in place for many years. We are certain that not everyone is able to install synthetic turf. In places where one fall could cause a disaster, it's important to do your research and work with the best options.
Synthetic turf can be installed easily if you know how to do it, which is why professionals are always needed for most projects if you want a long-term result as well.
Synthetic Turf Team of Jupiter has over 15 years of combined experience installing artificial turf in various playgrounds of different sizes. This ensures that children are safe while playing.
We will do our best to make sure you are able to let your children play, and you can relax while we look after them from afar and thanks to our product.
To get your artificial turf installed, you must go over this procedure with us:
We will evaluate the area and decide the best type of synthetic turf for it.

It can be measured to determine how much product is required.

To save time and money and ensure safety, choose a design.

Get an estimate for your project.

Wait for your approval before we can get started.
How Long Is the Timeline for Installation?
It all depends on the variations: how many meters you need us to cover, what type of synthetic turf is used and how long you give us for it.
Our projects usually take between 1 and 3 days to complete. Small areas, approximately 300 to 600 square feet, can be completed in a day with our team's experience. After all measurements and assessments of the ground, it should be much easier.
Larger playgrounds exceeding 1,000 square feet can take longer depending on weather conditions and if there is a need to wait for some areas to be prepared. We can guarantee that it can take us from three to four days to complete this project due to the sheer size of the jobsite.
While other options will be considered before you get an estimate of time, they don't usually have as much impact on the timeframe as the size and shape of the playground.
You will also need to tell us how involved you want us to be or how involved you want to be with this entire project. 
These include an idea of how the playground will look once the synthetic turf is installed and how it will look when the equipment is placed. It is difficult to know this since we are not involved in the construction process. However, we can give you a design that your team can use to help get the job done.
Our projects shouldn't take more than two days. We will try our best to complete them within one day. This allows you to enjoy the playground with your children or students or let children play.
We Help All Residents & Businesses in the City
You can count on us if you're in Jupiter Farms, Tequesta, Palm Beach Gardens, or the surrounding areas. We don't limit our services to one city. We are determined to grow our reach and add more cities until we can serve all of Florida.
If you live near us, we can assist you with your playground. Many of our clients have asked us if we can cover other cities or areas. We have made exceptions to make sure we serve you and your situation as best we can, so let us know how and where we can be for you.
If you'd prefer to have the task done by us, feel free to reach out to our team with a call or via email to find out if we can get to your location and provide the required assessment.
If you live in our normal areas or locations, we are available to answer your questions by phone, email, or by visiting our offices. We are happy to discuss your playground with you and help to make it safe for everyone, children, and adults.
Below is our list of additional services: