Athletic Fields Synthetic Turf Installation Services for Jupiter Residents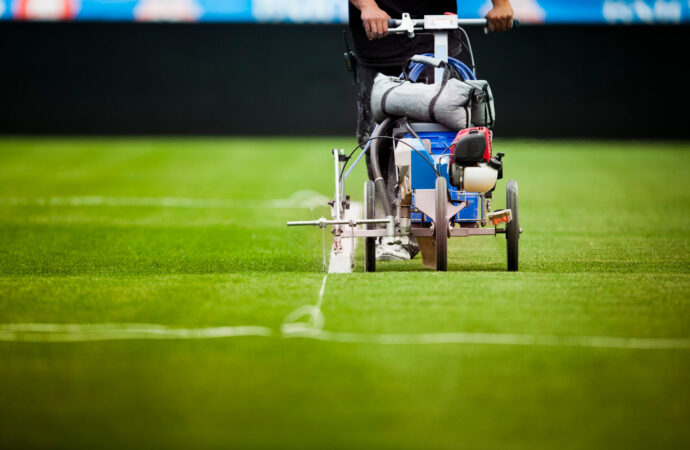 The type of synthetic turf that is used will depend on where it is installed. Synthetic Turf Team of Jupiter, an experienced company, not only understands this but also offers athletic fields synthetic turf installations and a variety of artificial turf to choose from.
It can be difficult to maintain natural turf, especially when it is used for recreational or sports fields where weather and foot traffic are not friendly with it. It will need a lot more watering, fertilizers, and chemicals and, therefore, a lot of time and money when investing in tending to it and making sure it won't die or have empty spots.
Synthetic turf is an excellent option for schools, residential properties, and other areas that require a beautiful surface with comfort. It can also be used in athletic fields for athletes to enjoy the experience, practice without worry, and keep it available for future use.
Our team will help you choose low-maintenance artificial grass for your field. We will not only provide the product but also handle the design, installation, maintenance, and ongoing support to ensure that you enjoy the results for many years.
This Is Why You Need Artificial Turf for Athletic Fields
It is well-known that an athletic surface with a firm yet the soft surface is essential for practicing sports. Natural grass is not an option, and it comes at a high cost that isn't always beneficial to those who depend on it.
Synthetic turf will always be your top option, or it should be if you want to reap all the benefits:
It can reduce costs because it doesn't require much watering, and no chemicals or fertilizers are needed.

It offers better impact reduction: it is great for falls and other accidents that may occur in field activities and practices.

You can have the perfect surface for all kinds of activities. It is not necessary to prepare the field or ground every time it is used.
As professionals, our job is to find the right type of artificial turf for your needs. We want to provide more than just a cost-effective surface. We also want it to be beneficial for the people who will actually use it: the athletes.
We recommend the most up-to-date synthetic technology and strive to make our products in accordance with our partners. Our synthetic turf for athletic fields is heat-resistant, shine-proof, long-lasting, and durable. These are in addition to the other benefits listed above.
Will It Be a Problem to Install It from Zero for You?
You can trust us if this is your first time working in a field or if you're just trying to bring an idea to life with the artificial turf available in Jupiter or nearby cities.
We offer the complete package, including design, installation, and maintenance. You can tell us what you want; we will evaluate the area and design a plan that meets your needs.
The next step is to prepare and install the synthetic turf. This will ensure that it performs well and lasts a long time. We will also provide all post- and maintenance services to maintain it clean and tidy.
Thanks to our expertise, we can provide services such as integrating amenities or preparing the field for activities. You can ask us to add greens or game courts to the field or to create open areas for spectators and visitors. Once the main job is completed, we will include the requested information in the design or any future additions.
We are proud of the work we have done and how it has helped us start from scratch. You can view testimonials and photos of past clients to get a better idea of what yours might look like.
Is It Possible to Replace Old Synthetic Turf in an Athletic Field?
We are not limited by this. It's easy to remove the old turf and install the new one if you feel it is time for a change or if you need to get rid of a turf that isn't meeting all your needs as of today.
We want to be clear that we do not accept projects that require the entire package only. If you only need a simple removal and reinstallation, we can do that and still meet all your requests.
We don't want to sell you services that you don't require. We want to let you know what services are available and how we can help you with the basics when it comes to artificial turf overall.
We will still inspect the field to determine if synthetic turf was installed previously by us or another company. We will then determine if the current type of turf is still the best but with improved materials or if you need a different type.
We replace the old artificial turf with newer technology most of the time. This allows you to have a longer life span with less maintenance and costs. As a professional synthetic turf company, our goal is to lower costs, guarantee a minimum of ten years of functionality, and make sure everyone has a happy field they can use all day long and all year round without any issues.
Can We Work with Large Fields in the Area?
Absolutely.
We can work in small or large fields, so you have the perfect surface, and with large ones, we might take more time—naturally—but we want you to know we're not intimated by them. We don't mind a challenge and are willing to take on any project that falls within our reach in terms of square feet.
We'll give you some suggestions, guide you through the process and tell you our action plan. This will allow you to feel included and comfortable.
Synthetic Turf Team of Jupiter is open all year round. We will make every effort to provide all the amenities and items that you require, and besides working hard for your project, we will be happy to provide post services that are needed for regular maintenance or just repairs, which are very rare.
Below is our list of additional services: