School Synthetic Turf Installation Services for Jupiter Residents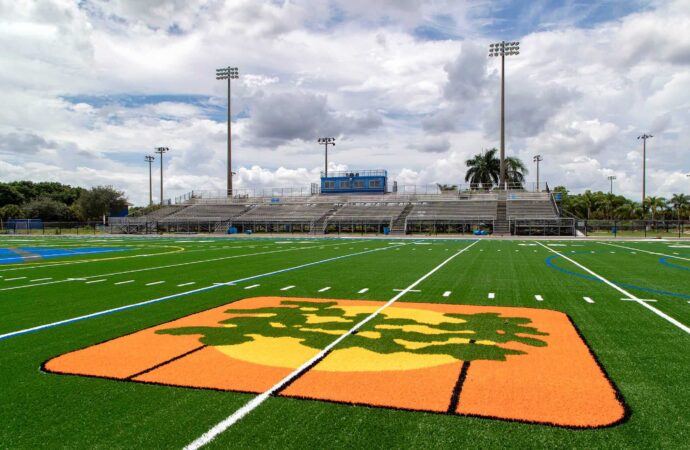 Artificial turf is most commonly used in residential properties, where children, pets, and adults can all enjoy the feeling and experience of having a natural space that they can use all year round and not have to worry about it being maintained or watered quite often, which is always a downside to having natural turf or grass. Synthetic turf is more than a nice-looking area; as you can expect, it comes with several benefits: it is also safe and can reduce impact. This is why Synthetic Turf Team of Jupiter offers school synthetic turf installation all over the city and nearby areas so kids of all ages can enjoy their time in the green areas without issues.
Schools want their students to be able to enjoy green spaces and not have to worry about chemicals being used to keep them green, areas that can't reduce injuries from falls or accidents, and areas that don't always have access to maintenance. They often install artificial turf to provide the necessary surface, and since we are all in for this goal, we want to provide them with the best options in the market according to each area they have.
Schools have sports fields, playgrounds, and athletic fields. Having a surface that allows students to perform their daily activities while also saving money is attractive.
Artificial turf has many advantages that schools can't ignore. Even parents love the fact that artificial turf is more appealing than the real thing and brings better safety for their children. These are some of the most important:
Synthetic turf can be used in all weather conditions, so students can play even after the rain has stopped and without delay, as the grass won't be affected as the real thing.

Encourage outdoor play, as the green space will always look great and be available for use.

It has safety qualities such as impact reduction and great performance in high-volume foot traffic. A shock pad underlayer can also be added to reduce injuries from falls or accidents.

Schools can save time and money by investing them in areas that are beneficial to students.
How Can Synthetic Turf Help Your School Reduce Costs?
Artificial turf is not as hardy as natural turf. It doesn't require watering every day or even several times per week. Instead, it can be watered only once or twice per month, reducing your water bill in the process and allowing kids to play more often without waiting for maintenance to be done.
You will also naturally reduce water consumption, which means you spend less money on services and help the planet simultaneously.
You won't need to fertilize or use chemicals to maintain the turf's appearance. This adds to the inconvenience of keeping those substances away from students who might be allergic or just so they are not affected by any fertilizers.
Even if the green spaces are not used for landscaping, maintaining them can be costly and time-consuming. Because turf and grass are what typically consume the most resources, you won't need to worry about half of these costs. Instead, use your resources to improve other areas of school and not sacrifice outdoor spaces for children and families.
How Much Does It Cost to Get Started with Artificial Turf for Schools?
Artificial turf is not cheap, but it is affordable compared to most elements to be installed in a patio or yard that can last for years. It all depends on the product and the area in which it will be installed, as well as the expertise of the professionals handling the project. Synthetic Turf Team of Jupiter will work hard to ensure that your school doesn't spend a lot to install it.
We will evaluate the space, create a plan that meets all your requirements, and then come up with the most cost-effective options. This will allow you to reap the ROI benefits of artificial turf.
This turf option is well-known for allowing you to see a return on investment in 3 to 5 years. We guarantee it as it pays its own expenses and the natural maintenance grass doesn't require will be the main reason why you can save all the resources for future projects or more important areas.
Synthetic turf can last over a decade, with minimal maintenance and very few repairs that are quite affordable. Our company also offers a 15-year warranty and financing options for those who are unable to finance the whole investment at once. We also work to reduce costs and maintain affordability.
Although we manufacture most of our products to cut costs, this does not mean you will receive low-quality products. We have partnered up with many companies to ensure that we can get the highest quality materials and the best products on the market. We can't get it, so we source it from our closest partners who are familiar with the requirements and use of turf or grass.
Products and materials that are eco-friendly

For the fibers, high-quality materials like nylon and polyethylene are used.
Is Your School Interested in Our Services?
All schools in Jupiter and surrounding areas are welcome to request synthetic turf installation services. We do not work in just one location. We want to go further with our services and ensure that all schools in the county, and soon the state, can count on us to provide safe and beautiful surfaces for their students.
If you're within range of our offices or nearby, please feel free to contact us. Even if your location is not within our reach, you can still contact us by emailing or calling our team to let them know where you are and if it's possible to make an exception based on distance.
To perform the installation, our team will need to make an appointment and visit the school to assess the area. This is a free service that we offer regardless of where your school is located.
We would like to know the size and number of spaces in your school, as well as your needs and requirements, before we visit. This information should be as complete as possible so we can go for the assessment well-prepared.
Don't worry if you can't provide exact details or information. We will go to the school and collect the rest or have someone to help us.
Below is our list of additional services: