Putting Green Installation Services for Jupiter Residents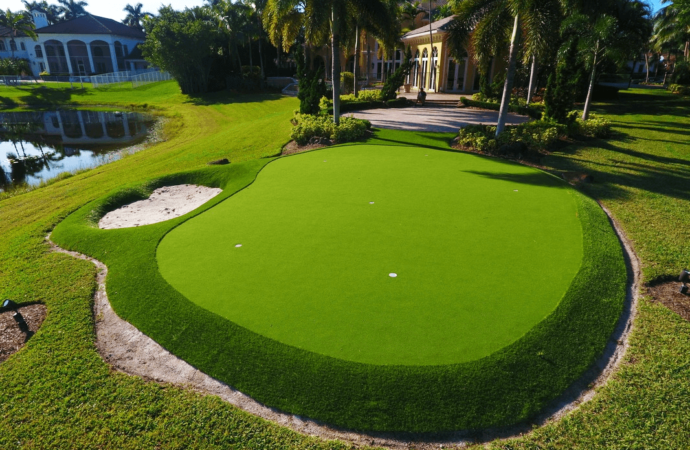 It can be challenging to practice your golf game when you live far away from the course to begin with, and in Jupiter, it can be hard to always go and pay a visit, especially when you want to be close and improve your game with frequent visits. You can solve this problem by having your own course and holes at your home, work, or wherever you have the space. Synthetic Turf Team of Jupiter can help you by putting greens in any space that you want. We also make sure you have an area similar to a golf course but of your own where you can improve.
While a few greens in your backyard or patio won't be as enjoyable as a full-fledged course, they will improve your game, provide an opportunity to play with family and friends, and can even make you a good investor if you decide to sell your property.
Most people think that putting green is the same thing as playing in their garden or turf. Our job is to make the green look exactly like the fairway.
While some details may differ, the end result should feel and look the same as a well-maintained golf course. This will ensure that your game doesn't suffer.
The beauty of putting greens is in the way they can be designed. Our team can design the landscape for those with limited space or ground that isn't conducive to the imagination. This will allow you to have an adventure in your home or property.
We will need to evaluate your patio and take measurements. Once we have some ideas, our professionals and designers can help you make them a reality.
Is It Worth Installing Putting Greens in Your Property or Space?
We don't care what your reason for wanting this service is, but if you are worried about whether this service is worth it or not for you, we're confident you will find it suitable for what you've been looking for.
Many of our clients request to have a private space for their games. Some people view it as an investment.
Florida properties that include a putting green are more likely to sell. This is because it allows the owners to offer something to do with their guests or just have it to improve their game.
A medium-sized putting green costs about $3.500 and can increase the property's value by $7.500 if it is listed on the market. It's about how well-designed it is and how well you have maintained it over the years. It adds more value if it is new.
For those who are truly invested in the sport and want something that will connect them to it wherever they are, it is worth the investment. You can rely on Synthetic Turf Team of Jupiter professionals to deliver a quality result that will not disappoint and challenge your skills.
Is It Possible to Install a Putting Green on Your Property?
It is common for people to be reluctant to request our service due to their small yards or patios. Putting greens are designed to improve your area and ensure you have the holes for golfing. We will also guarantee the experience is the same as a round of golf, so we can make it perfect, even if there is only one hole.
Although we are limited to very small spaces where a table can be placed, if you give us 50 square feet or similar measurements, we can create a beautiful putting course for you. This will allow you to practice with one or two holes.
It's all about the basics and how you use the space. We will have more creativity if we have sufficient space for large or medium-sized putting greens.
We will assess your area, take measurements, discuss the design options that you have, and then work with you to achieve the desired results. We will be open to all your suggestions and needs.
So that you are able to give us your approval to get the project started, our team will design the project, determine the best materials and products, and estimate the time and cost.
How Much Does It Cost to Put Greens in Jupiter?
Prices can vary. We will always work within your budget and won't force you to buy a particular design or material. We will instead work closely with you and your property to make it happen.
A medium-sized putting green will cost between $3.500 and $4.000. An artificial one that is larger can run over $8.000. It all depends on how many square feet are covered and how much work is required to get the ground ready for the design we have created.
A 100-square-foot green can be as small as $1.000 and up to $2.500. You can help us by providing us with an estimate of the space or the size so that we can give you a price quote that is close to the final price.
We can provide an estimate based on your space and the products used.
Contact us to find out more about financing options and previous jobs. We can also help you get a taste of your favorite sport on your own property.
If you are worried, however, that our team won't be able to work around your space, it is a matter of assessing it and determining what can be done.
After all, it isn't easy to work with putting greens unless we have a look at how the space is and take all the required measures. Besides, our first visit for this is completely free, which means you don't have to worry about how much this visit will cost.
Allow our team to be there for you and offer the best assessment, guidance, and recommendations for a project you have always wanted to work with. You are free to contact our team all year round and expect us to answer in a matter of seconds, whether it is a phone call or minutes for emails.
We would love to work with your space no matter what.
Below is our list of additional services: