Artificial Golf Turf Installation Services for Jupiter Residents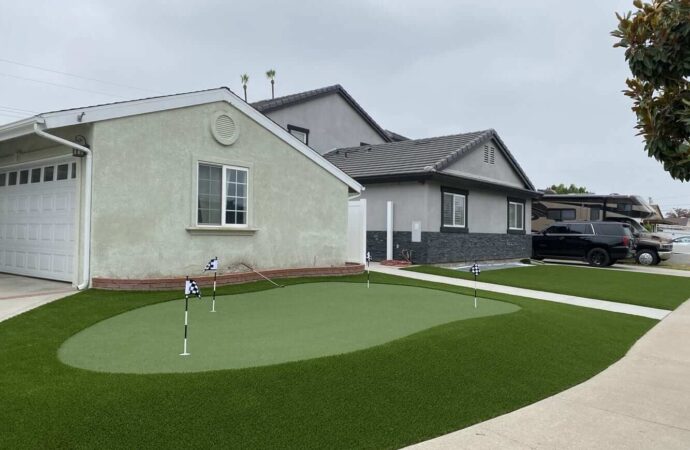 We are not like other companies in Jupiter and nearby areas that use artificial turf for all things or, more like, the same type of turf or grass for every single space. This includes gardens, patios, and fields, as well as golf courses. To guarantee the best performance in each area, space, and situation, the right type of turf must always be used. This is why we spend time with you to assess your lawn and work on your project to find the best option. Synthetic Turf Team of Jupiter will use the best artificial golf turf for golf courses. This will ensure durability, longevity, and high performance to help with everyone's game and in other areas where it is needed as a surface.
The turf used in golf is very different from regular grass or synthetic turf, and you will understand how much golf turf must be suitable for the game when you experience and feel all the options available in the market or just compare it with yours in your patio and the one you can find in golf courses.
We are proud to have created one of the most popular artificial golf surfaces in America. It has been installed on both small and large courses, where professionals and amateurs enjoy the same perfect surface.
We offer a variety of synthetic turf systems to suit all requirements and sizes. We will evaluate your area to determine the best solution that is both cost-friendly and feasible.
Is Our Artificial Golf Turf Service The Same As Putting Greens?
They are both different. Artificial golf turf is only one part of the putting greens, and it is always needed for it as the idea is to create a small golf course in your place, which means having the right type of turf installed for it.
Artificial golf turf can be used to create putting greens depending on what type of artificial golf turf we use and how we design it. However, our main service is for those who are looking for professionals to install multiple pieces or an entire course to provide the best surface. It will last over a decade and resist all weather conditions. This allows players to enjoy the perfect conditions.
We will not just design your putting greens, but we will also work with you to install and maintain the course. It is important to distinguish between small-scale projects for putting greens and large-scale projects for entire fields.
No matter what your requirements are, we have enough workers and skilled designers to help you make your green paradise a reality.
The Benefits of Artificial Golf Turf for Your Space
This type of turf has many benefits beyond the obvious ones, like durability and longevity. We use only the best golf turf to ensure these benefits:
It is not necessary to maintain a high standard of maintenance.

Community members enjoy great amenities.

It performs well in all weather conditions.

It is cost-effective because it doesn't require any watering or fertilizing or not as often as natural turf.

Great liquid draining.

It is ideal to avoid dirt and mud.
While golf turf is specifically designed for golf courses, it's not limited to those areas. Many customers have asked for the product to be installed on their patios or yards so that they can play golf whenever they like or have the additional benefits of synthetic grass in their green areas.
We will help you make the right decision based on your requirements and needs. This means that we won't throw away golf turf even though you don't want us to help put greens or work on golf courses. If we feel it is able to satisfy your needs, we will recommend it to you or just follow your preferences.
What Does Our Artificial Golf Turf Service Include?
We can provide a regular assessment, design, installation, and maintenance. You can even get DIY putting green kits to make your own course. We don't think you will need them if it is on a course. However, we can add extra amenities to make it more comfortable and functional for everyone.
The scope of our services will depend on what you request. Some clients only require one type of golf turf, while others may need several types.
We need to know as much detail as possible in order to create the perfect design. Not only do we need to know how it will look, but also what materials and products are required for it.
We have the most up-to-date technology and can incorporate as many types as you need in synthetic golf turf. We will work with you to find the right balance between your budget and what you want during the project.
When working with this type, we can also offer to put courses. We can bring your recreational areas to life and make sure that the course is fully functional.
When the project involves more than installing artificial golf grass or removing an existing one to make way for a new product, there are many areas that need to be addressed. We can help you with all your needs to ensure that you get the best result.
Reach Out to Us for More Artificial Golf Turf
Are you thinking about replacing your artificial turf or maybe getting it for once? Perhaps you are looking to create a new course or put green. No matter what your goal is, our premium golf turf will help you achieve it.
You can access it by calling any of our available phone numbers or emailing our team directly.
We will make an appointment to come to your location and assess the work required to install artificial golf turf. Keep in mind our first visit is for assessment, and it is completely free, meaning you don't have to worry about costs from the very beginning.
Our professionals will go over the measures, details, and more so you can have an estimate in no time, as well as a timeline for the job to be completed.
Below is our list of additional services: