Synthetic Grass Installation Services for Jupiter Residents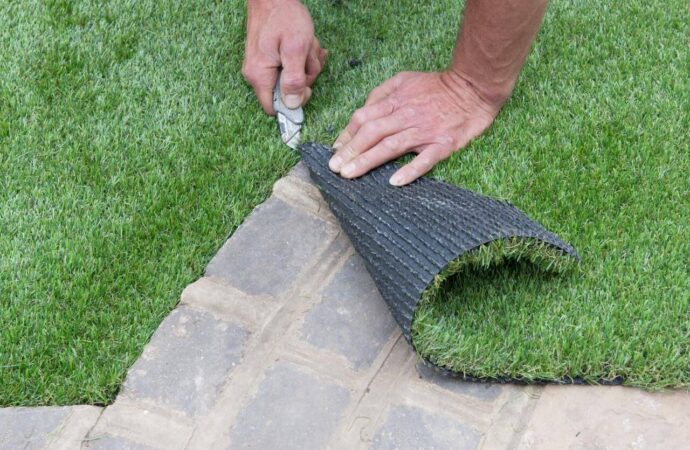 Each client has different preferences and needs, which is why choosing the right product is important to come up with a surface that will last for years. Artificial turf and grass are not the same things, as most people believe, and one won't work for certain areas or last for too long based on different conditions. Synthetic turf is used in high-volume areas with heavy foot traffic and provides a little more support. Synthetic grass installation is often requested or performed for green spaces where the landscape's appearance is more important than its impact reduction or support.
At Synthetic Turf Team of Jupiter, we know best as we have been working with grass and turf for over 14 years, and this involves the natural options but mainly the synthetic alternatives in our repertory.
Our synthetic grass team is familiar with how synthetic grass is installed, maintained, and repaired. We also know how to make it so that it performs well in any area it is designed for: gardens, patios, parks, and specific ones where the landscape is everything.
We love to give our clients a general overview of the subject before they make a decision. If you are about to decide on the best option for your space, this includes you.
Why Is Synthetic Grass Different from Artificial Turf?
You should be familiar with soccer stadiums, athletic fields, and golf courses. They all share one thing in common: synthetic turf is used due to its durability, functionality, and great longevity. This is based on the activity and high foot traffic in those spaces.
Artificial grass, however, is intended to look like natural grass. It can be a place where people sit and spend time together, and high volume traffic and the resistance to it aren't exactly the main qualities.
Both products are different in their use and appearance, and it is important to know what your space will be for to come up with the best product and its installation.
Artificial turf is less realistic looking than natural grass and is also shorter.
Both options will have the same durability, long-term performance, and aesthetic appeal, but when they are installed after a thorough assessment of the space. This includes measuring the space and determining the intended use of the area. Then, the right type will be chosen and properly installed.
Many products can last more than a decade because they don't require much maintenance. Even children can take part in their care or tending of them.
Why Should You Choose Synthetic Grass Over Artificial Turf?
If your green space is a patio, garden, or low-volume foot traffic area, you want to have a surface that looks almost the same as natural grass itself, correct? Then this is why you need the artificial grass option, not the turf alternative.
Clients sometimes contact us to request synthetic grass to be installed in areas with high foot traffic or parks. Artificial turf is not recommended in these areas, and choosing one is up to you based on your desired functionality and appearance.
However, patios and gardens are often preferred for this product because they look natural and even more real than real grass while offering all the extra benefits of not tending to it every day nor having to water it quite often.
Artificial grass fibers mimic natural grass and simulate how it feels if you touch it with your naked hands. It can be even softer and provide greater comfort and support depending upon the fibers used or what they are made of.
We only use the best materials like nylon and polyethylene. Our professionals are experts in the latest technology, so you can have a surface that looks great all year.
Turf is recommended for children who are playing or athletes, as well as those with high foot traffic. Our artificial grass is flexible enough to meet your needs. We can help you navigate the process and guide you.
What Is the Synthetic Grass Installation Procedure?
We will do everything for you, unlike other companies. Begin with a FREE visit to your property and space to evaluate it and take all necessary photos.
Next, we will discuss your requirements and preferences in order to determine the best design for the space and go over the right type based on your needs. We will then create it in the next few working days and await your approval.
We can provide estimates before and after the design is completed so that you know how much it will cost. This will be based on the materials used and the space available to ensure the best possible experience once the grass has been installed.
Many projects require more than just choosing the right synthetic grass and having it installed. The area must still be assessed so that we can determine the appropriate measures and the amount of product to use.
No matter what your requirements are, we can help. We will work quickly and make sure you are happy with the whole experience. It is important to choose the right type and length of artificial grass, as well as the method of installation. Let us handle every detail and go over our entire procedure without delay:
For more information, please contact our team.

You can schedule a free visit.

Let us assess the area and offer some suggestions and ideas on what products and designs would work best.

Our team can design the green space for your grass.

Get an estimate.

Once you have approved it, we will get to work.
You can trust our email addresses and phone numbers to help you locate the team that will install synthetic grass. All year, you are welcome to come to visit us and make your request, even if it isn't for synthetic grass installation but rather other solutions offered by our team in Jupiter and all surrounding areas, which you can have a look at by browsing our website a bit more.
Below is our list of additional services: